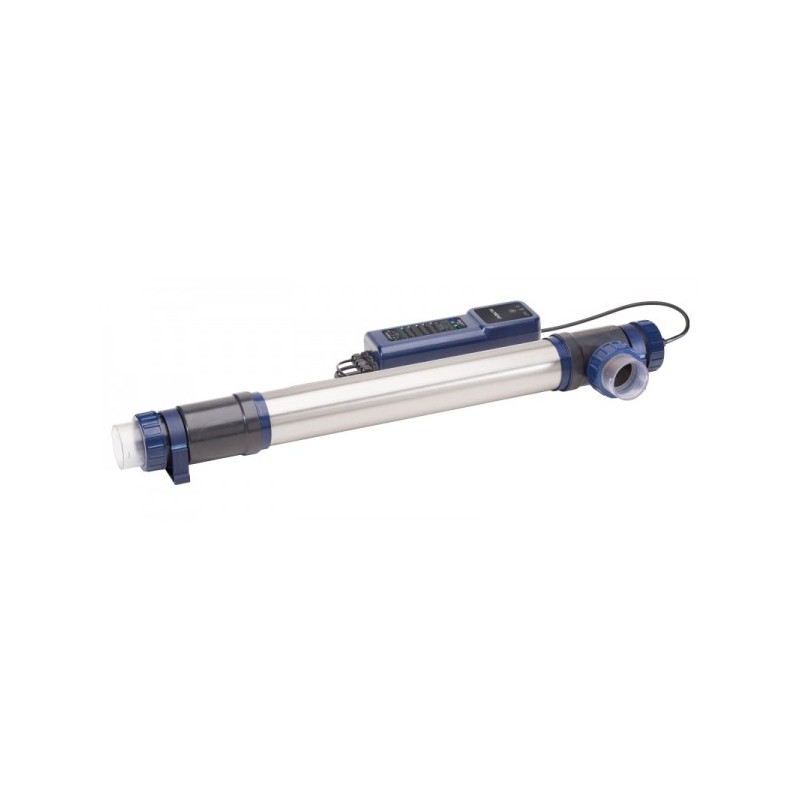  
UV-C Copper Ionizer 80.000 Liter
Filtreau UV-C copper + ionization 80 watts
How does a UV-C + Ionizer system work?
A UV-C + ionization device works on the basis of copper and UV-C radiation.
In this process, specially manufactured copper rods are positively charged by low-voltage current and this is called copper electrolysis.
The copper in the water acts as a disinfectant in the swimming pool and in terms of result can be compared to the effect of chlorine without actually having chlorine in the swimming water.
In addition, you need a powerful UV-C radiation in a safe, enclosed space, which destroys the DNA of bacteria, viruses and micro-organisms.
Research has shown that a quality UV-C lamp disinfects up to 80% of the swimming pool water and a correctly adjusted copper electrolysis disinfects the other 20% of the swimming pool water.
Provided all values are 100% correct, UV-C combined with copper electrolysis makes it possible to swim without the use of chlorine and / or other chemicals.
.
Filtreau UV-C copper ionization 80 watts
The Filtreau UV-C Ionizer cleans your swimming pool water by means of copper electrolysis in combination with UV-C radiation.
Due to the high discharge pressure before the sand filter, the device is always placed after the pool filter on the pipe system. The pool water flows by means of a pool pump through the housing of the Filtreau UV-C + Ionizer.
Inside the housing of the unit are a UV-C lamp and a copper unit (called Ionizer).
Suitable for pools up to 80 m3 in normal use and normal number of pool users. (You can imagine that different calculations apply for a camping pool).
The copper rods give copper ions to the water that is pumped through the housing.
These copper ions (Cu2 +) in the water are positively charged and attack the cell wall of bacteria, viruses and other primitive organisms.
Because the cell wall is affected, they can no longer absorb nutrients and therefore they cannot multiply.
.
Advantages of the Filtreau UV-C + ionizer
 • Suitable for swimming pools up to 80 m3
 • Robust Dutch quality
 • 316L stainless steel interior for 35% more radiation output
 • Easy installation and maintenance
 • 2-year warranty on manufacturing defects, with the exception of break-sensitive parts such as the lamp and quartz glass
 • Maximum 63mm connection
 • Product is safely earthed for 230v use
 • Suitable for 22000 L / hour flow
 • optimal UV contact time due to the length of 1 meter of tube
 • Pressure resistant up to 2 bar
.
Supplied as standard
 • Stainless steel housing
 • Powerful T5 connection 80 watt UV-C lamp
 • Copper electrodes set • Quartz glass where the lamp goes
 • 63 mm inlet / outlet connection
 • Assembly manual and user manual
 • Copper value test strips
 • Ballast (transformer) adjusted to the length of the lamp .
.
You install the UV-C ionisation system as the last part in your technical installation, but for any existing heating, but it is not possible to use this system with salt water because copper and salt water can become toxic.
3 other products in the same category:
Brand: Blue Lagoon UV-C
2 pieces/stuks/pecas/stuck/piezas - reducer 63mm > 50mm / 1 1/2 inch  
Brand: Filtreau UV-C
Spare Quartz sleeve Filtreau 40 & 80 Watt UV-C Ionizer